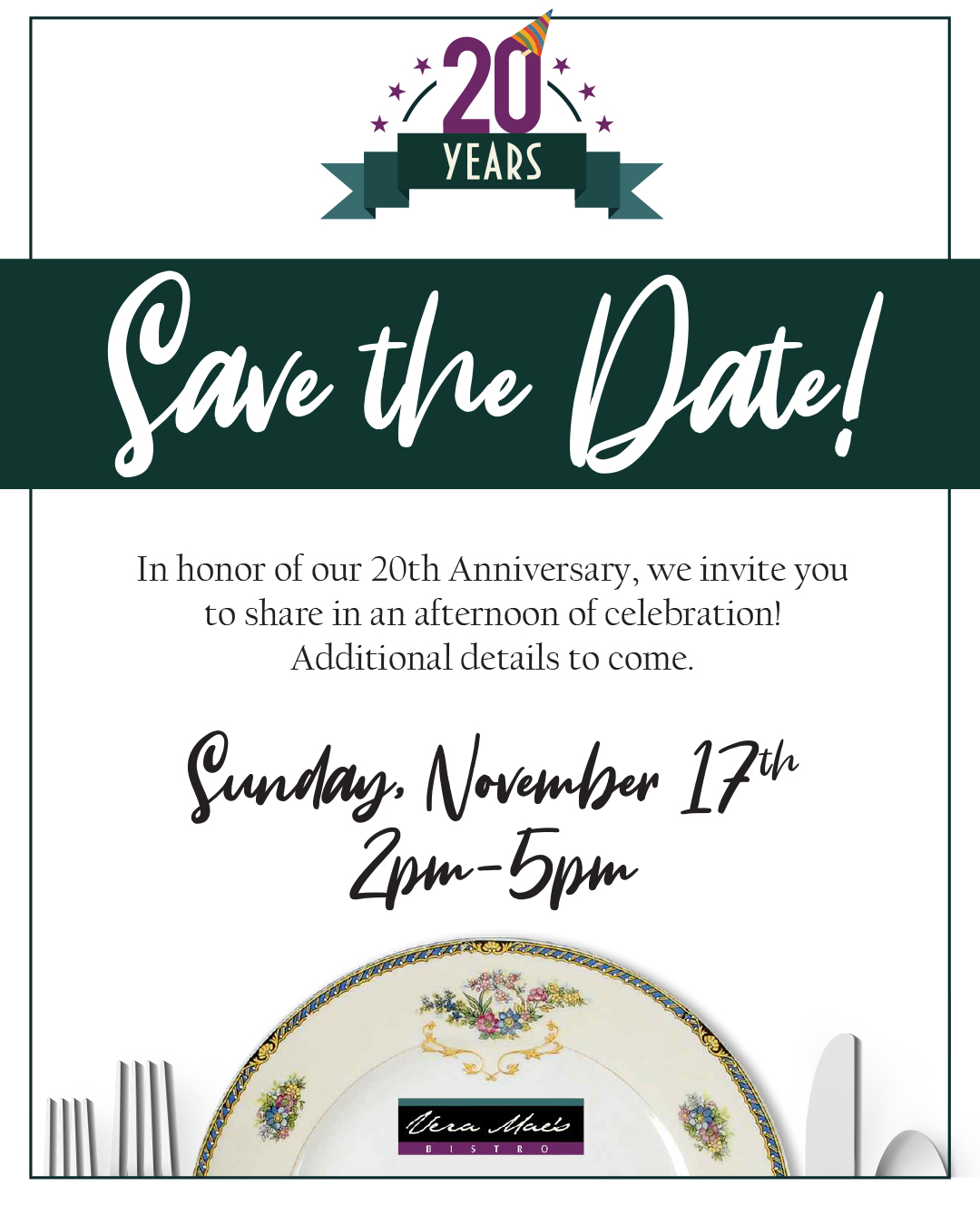 Vera Mae's Bistro Celebrates 20 Years of Upscale Cuisine in Downtown Muncie
Vera Mae's will be kicking off their 20th Anniversary Celebration this week with special events, delicious features, and tempting cocktails with more surprises in the weeks to come! Opening its doors in 1999, Vera Mae's began its story as a lunch delivery and catering business through its South Walnut street storefront in downtown Muncie. Owner Kent Shuff pioneered the revitalization of Muncie's historical district and later expanded the restaurant in 2002. Formerly Ballaird Hardware, Kent and co-owner and partner, Steve Fennimore created the Ballaird Hall, increasing the original Bistro from 54 seats to 210 seats.
Warm and inviting, the atmosphere reflects the love of the historic features inherent to the space and is filled with artwork predominantly from local artisans. On the walls, you will find part namesake, Vera Yates (Kent's Grandmother), at her restaurant and gas station, along with David Letterman on an evening out and a host of other wonderful guests from over the years. Everything has a story as the modern, local art and historic architectural elements combine for an intoxicating evening of hand-crafted cuisine and delectable drinks. Vera Mae's Bistro offers upscale fusion cuisine borrowing from the rich traditions of Europe, Asia, and the new world.
No matter the occasion, Vera Mae's goal is to provide the highest quality and freshest fare available presented with impeccable service and attention to detail!
To get up-to-date information, check out their Facebook!
First Thursday – Cajun Night
Let the good times roll on the first Thursday of every month for Cajun Night! Join us for New Orleans classics like oysters on the half shell, jambalaya and crawfish etouffe. Tables fill up quick – reserve your seat now!
Dinner on the Roof
Join the owners for their annual fundraiser in their own home as featured on HGTV.